TO JE tema koja me muči već nedjeljama. Počeo sam ličim na onog brijača koji nije u stanju skriva tajnu kralja Mide koju samo on zna. I premda ono o čemu bih da govorim nije nikakva tajna, mučio sam se, jer sam shvatao da veoma rizikujem da navučem na sebe gnjev feministkinja i drugih ljutitih građana, da budem optužen za seksizam i mržnju prema ženama, mada, zna Bog, sve je to meni, obožavatelju i ljubitelju žena, koji čak nije u stanju ni da se svađa s njima, apsolutno strano.
Ali, što se kaže, ćutati se više ne može. A natjerale su me da govorim na tu temu pojedine političarke – sve, kao da su birane za vic, iz nekog razloga plavuše. Ili farbane u plavo.
Jedna od njih je premijer Velike Britanije Tereza Mej. Nije prošlo ni nedelju dana otkako je postavljena na mjesto šefa britanske vlade, kako je progurala u Domu komuna odluku o obnovi strateške nuklearne flote Njenog veličanstva. Naravno, kako je uobičajeno na Zapadu u današnje vrijeme, mada, ne samo današnje, pri tome je plašila spoljnom prijetnjom po zemlju.
Od koga ona dolazi – nije teško pogoditi. Naravno, ne od saveznika.
Tokom diskusije na temu ponovnog nuklearnog naoružavanja, zastupnici su je pitali da li je spremna, u slučaju potrebe,  da izda naređenje za upotrebu oružja za masovno uništavanje, znajući da će to donijeti smrt desetinama hiljada  staraca, žena i djece.
Imala je priliku da malo razmisli, da se sabere, ispolji mudrost i kaže: mi to oružje i pravimo za obuzdavanje eventualnog protivnika, da ne bih morala  dsa dajem takvo naređenje. Međutim, u šefu britanske vlade nije se našlo ni ženske uzdržanosti, ni mudrosti, i ona je sa zapanjujućim cinizmom i krvožednošću kratko izustila "da".
Da, ona je spremna izdati takvo naređenje. Vjerovatno se ugledala na Margaret Thatcher, koja je 1982. godine nedrhtećom rukom poslala svoje brodove – na nekima je bilo i nuklearno oružje – u Južni Atlantik da preotme od Argentine Folklandska (Malvinska) ostrva. Izgubivši pritom dvije svoje fregate, dva razarača, desantni brod i kontejnerski brod, tridesetak helikoptera i aviona, uz 258 poginulih. Ne računajući 650 poginulih Argentinaca. Treba zahvaliti sudbini što ni jedan nuklearni projektil tada nije eksplodirao.
Uključujući i onaj koji je bio na razaraču "Sheffield" koji su potopili Argentinci.
Šteta što niko nije podsjetio Terezu Mej na te događaje, što nije objasnio premijeru Velike Britanije da ako ona – ne daj Bože! – U sadašnjim uslovima izda naređenje o upotrebi nuklearnog oružja, neće morati dugo čekati na odgovor. I iznad njene zemlje, iznad koje nekada nije zalazilo sunce, ono jednostavno više neće izaći.
Ali, sadašnji premijer Velike Britanije nije jedini političar u suknji koji ne pazi na svoje izjave.
Ministarka odbrane Njemačke, doktor medicinskih nauka, žena milijardera i majka sedmoro djece, šarmantna plavuša Ursula von der Leyen, dala je intervju njemačkom nedeljniku  Bild am Sonntag, u kojem je nazvala NATO isključivo obrambenim savezom i prekorila Rusiju zbog toga što je njena vojna politika apsolutno netransparentna i da bi bilo dobro da u okviru OESS Moskva i Bruxelles otvoreno obavještavaju jedno drugo o kretanju svojih snaga.
Što se tiče toga da je "NATO isključivo obrambeni savez", gospođa ministarka se, blago rečeno, malo zanijela.
Ni Jugoslavija, ni Irak, ni Afganistan, ni Libija, koje su stradale u bombardiranjima Sjevernoatlantskog saveza i izgubile tokom njih desetine i stotine civila, sa takvom tvrdnjom nikako ne mogu složiti.
One nisu napadale ni NATO, ni članice NATO posebno. Kako je alijansa mogla od njih da se brani, apsolutno je nejasno.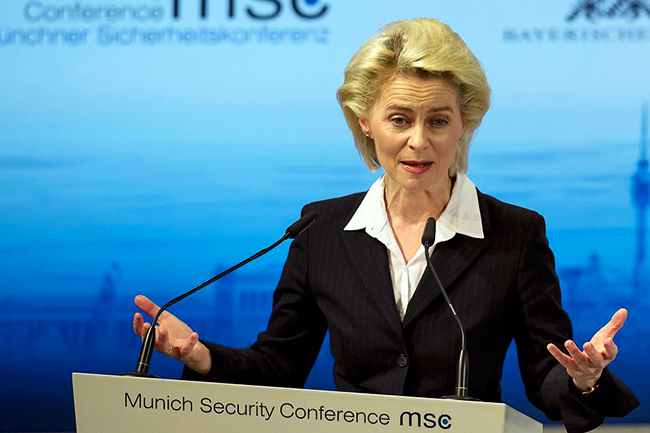 Što se tiče inicijative gospođe vojne ministarke da NATO i Rusija treba unutar OESS da razmjenjuju vojne informacije, tu ništa nije prosto.
Očito bivši liječnik-ginekolog nije upoznata sa postojanjem bečkog dokumenta o mjerama za jačanje povjerenja i bezbjednosti. Usvojen je 2011. godine na sjednici Foruma OESS za saradnju u oblasti bezbjednosti.
U skladu sa tim dokumentom države potpisnice, a to su praktično sve članice OESS, uključujući, Naglasićemo specijalno za Ursulu von der Leyen, i Njemačku, svake godine razmjenjuju informacije o vojnim snagama i temeljnim sistemima naoružanja i tehnike, o planiranju u području odbrane i o vojnim proračunima.
Sporazum predviđa mehanizam konsultacija i saradnje vezano za neobične vojne aktivnosti i opasne incidente vojne prirode.
Osim toga, države potpisnice dokumenta obavještavaju jedna drugu posredstvom OESS o pojedinim vidovima vojnih aktivnosti, pozivaju na njih posmatrače, sprovode inspekcije u navedenoj zoni, a takođe posjećuju vojne formacije radi ocjenjivanja tačnosti podataka koji se dostavljaju o njima. Usput, u skladu sa tim sporazumom grupa ruskih inspektora iz Centra za smanjenje nuklearne opasnosti iz ruskog vojnog ministarstva boravila je u Njemačkoj, provjeravala je stanje u Bundesveru … A prije toga su u Rusiji gostovali njemački inspektori.
Čudno je da gospođa ministrtarka to ne zna i da, što se kaže, nasrće na otvorena vrata. Možda, po sadašnjoj zapadnoj rusofobskoj tradiciji, nijedan nastup ne može proći "bez kamena u rusku baštu"?
Mada, naravno, nikakva Ursula von der Leyen, pa čak ni Tereza Mej, ne mogu uporediti s kandidatom za predsjednika SAD Demokratske stranke i bivšom državnom sekretarkom Hillary Clinton.
U njenom slučaju, imamo i prijetnje pooštravanjem sankcija protiv Moskve zbog "aneksije Krima", i plašenje pričama o "sovjetizaciji" nezavisnih republika koje okružuju Rusiju, a i žalbe da kod nas nema demokratije i slobode govora.
Postoje i bukvalno drski lični ispadi protiv predsjednika Vladimira Putina, kod koga misis Clinton nije pronašla … dušu. Navodno, kakvu dušu može imati bivši predsjednik KGB.
Istina, i sam Vladimir Putin se prema tim izjavama odnio prilično snishodljivo, istakavši da "gospođu Clinton ni ranije nije odlikovala naročita profinjenost u izražavanju".
Ponekad mi se čini da infantilni i neodgovorni muškarci guraju žene na najviše funkcije kako bi sakrivali iza njihovih leđa svoju nesposobnost, a potom svaljivali na njih krivicu za neuspjehe u velikoj politici. Jer, eto, šta njima da zamjeriš? Pa, one su plavuše! Farbane ili ne – nevažno je.
Ponoviću  se, ja veoma volim žene, i sve što je ovdje napisano je samo u njihovu zaštitu. I ako neko to nije shvatio, što da se radi.
Fakti