U DALASU je 8. jula tokom masovnih nereda izazvanih ubistvom dvojice tamnoputih građana SAD od strane policajaca grupa snajperista otvorila vatru na pripadnike snaga reda i mira koji su pokušavali zadržati razjarenu gomilu. Tom prilikom je ubijeno pet policajaca.
Vatra je otvarana sa unaprijed pripremljenih položaja u potkrovljima i na krovovima okolnih zgrada i moguće je da je bila navođena.
Kako se ispostavilo, žrtava je bilo i među demonstrantima – nekoliko puta snajperisti su gađali direktno u gomilu. Policija, koja je uz određeno kašnjenje opkolila mnogoetažnu garažu u blizini, uspjela je da uhapsi tri "pucača" iz grupe koja je pokrivala snajperiste. To su zapravo bili pomagači koji su odvukli pažnju policije od dvojice snajperista: čim su snajperisti otišli, pomagači su se predali.
Jedan član te grupe – Mika Johnson, koji je – kako se ispostavilo – veteran KFOR, snaga NATO na Kosovu – nije želio da se preda i nakon kratke borbe sa policijom eliminisan je pomoću robota koji je bacio granatu na njegov položaj.
Na kraju su upravo njemu "prikačili" ubistvo svih pet policajaca. Iskorišteno je to što je Johnson profesionalac koji je služio na ratištu, umio je pucati – znači, on je sve i pokosio.
Osim toga, mrtav je – što znači da nikad neće moći dati iskaz niti potvrditi ili demantovati  službenu verziju vlasti SAD onoga što se dogodilo.
Prije pogibije je vikao da mrzi sve policajce – znači, radi se o ličnim motivima zasnovanim na psihičkoj traumi stečenoj u Afganistanu, a ne o namjerno organizovanoj diverziji u kojoj je grupa "pucača iz Dallasa" u garaži igrala ulogu statista.
Stiče se utisak da su Miki Johnsonu prosto prikačili krivično djelo koje nikad neće biti rasvijetljeno i dali američkom narodu to progutati.
Istinski uzrok pucnjave u Dallasu nesumnjivo je mnogo dublji.
Nije mogao Johnson, čak i da je bio "zelena beretka" i majstor pucanja po-makedonski (sa obije ruke istovremeno), da iz dvije snajperske puške za nekoliko sekundi ubije pet policajaca.
Ti ljudi su svi ubijeni hicima u glavu, sa velikog razmaka i, izgleda, sa drugog položaja – ne sa krova garaže.
Očito je da su postojala bar dva para snajperista, koji su zatim na misteriozan način nestali, ostavivši samo grupu pomagača, na koju je i naišla policija.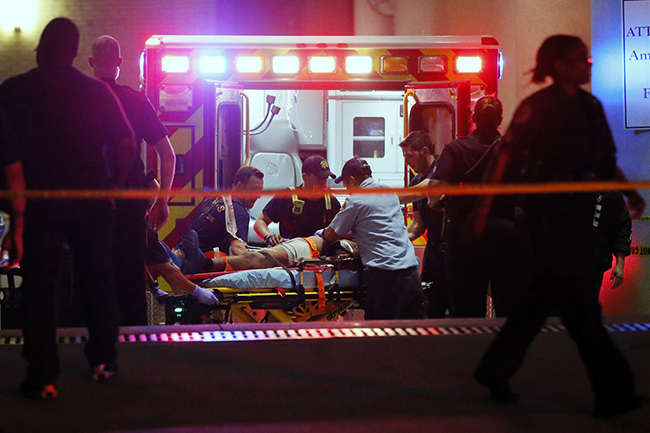 Isto tako je 1963. godine policija uhapsila na mjestu zločina Lee Harvey Osvalda – koji je do kraja negirao svoje učestvovanje u Kenedijevom ubistvu i tvrdio da su mu smjestili. Zatim je Oswald umro, i više mu se nisu mogli postavljati pitanja. Još uvijek je nerazjašnjeno ko je zaista pucao u Kennedyja.
Međutim, treba istaći da julska pucnjava u Dallasu umnogome podsjeća na ubistvo predsjednika Kennedyja 1963. godine.
Kao i 1963. godine, taj zločin pripisuju  se teroristi-pojedincu koji je djelovao iz ličnih motiva (navodno se borio protiv policijskog nasilja i samovolje, rasizma, rasne segregacije), što odmah isključuje verziju da je ubistvo policajaca zapravo provokacija usmjerena na destabilizaciju političke situacije u SAD koja se istovremeno odlično uklapa u kontekst konkretne političke borbe za predsjedničku fotelju.
A to je najvjerojatnije upravo tako: "vatromet" u Dallasu je nastavak događaja u Fergusonu, St. Louisu i Baltimoreu, dirigovanih protesta organizovanih po scenariju "obojenih revolucija".
Njihov cilj je potkopati autoritet Demokratske stranke, čiji predstavnik – predsjednik Obama – ne može ili ne želi učiniti ništa da spriječi eskalaciju nasilja izazvanog rasnom netrpeljivošću. A ubistvo policajaca je pokušaj da se situacija dovede do još većeg usijanja i eksplozija i da se energija dirigovane eksplozije usmjeri protiv aktuelne administracije Bijele kuće.
Radi toga su Obamini protivnici iskoristili tehnologiju "sakralne žrtve" – isto kao i na kijevskom majdanu 2014. godine.
Tamo su pod istim okolnostima (masovni protesti izazvani nasiljem kijevskih snaga reda i mira protiv "mirnih" demonstranata na Majdanu) nepoznati snajperisti pobili pripadnike "Berkut" (specijalne jedinice MUP Ukrajine) i demonstrante, što je bio signal za prerastanje "mirnih" protesta u oružanu pobunu protiv aktuelne vlasti.
Ubijeni majdanski demonstranti su upisani u "nebesku stotinu" i upravo su oni postali sakralna žrtva koju su "obojeni revolucionari" učinili znamenjem svoje borbe.
Od toga trenutka događaji na Majdanu su postali nepovratni, prijeđena je tačka poslilje koje nema povratka.
Da je neko uporedio scenarije dirigovanog protesta u Fergusonu, St. Louisu i Baltimoreu sa scenarijem "obojene revolucije" u Kijevu, tragedija u Dallasu se mogla predvidjeti. I možda bi bile izbjegnute žrtve.
I u Kijevu i u Dallasu vidi se isti potpis, i taj potpis ukazuje na stvarne organizatore – stručnjake za "obojene revolucije".
Stvarni cilj te provokacije je da se tok događaja učini nepovratnim: probe primjene tehnologija "obojenih revolucija" u Fergusonu, St. Louisu i Baltimoreu trebalo bi da  završe Majdan u New Yorku ili Washingtonu.
Udarna snaga tog majdana biće afro-američko stanovništvo, koje smatra da se bori protiv rasizma, segregacije i policijskog nasilja. Afro-američki "gengsta-majdan" će biti jednako opasan kako za demokrate, tako i za republikance, ako republikanac postane predsjednik SAD: uzvratni talas nasilja podgrijan pucnjavom u Dallasu biće veoma teško zaustaviti.
Snajperisti koji su pucali u policajce u Dallasu vjerovatno nikada neće biti otkriveni: oni su uspjeli pobjeći iskoristivši sveopšti metež – isto kao i na kijevskom majdanu 2014. godine.
Polazeći od nevjerojatne sličnosti ta dva scenarija, vrlo je vjerovatno da je u Kijevu 2014. iu Dallasu 2016. godine djelovala ista grupa snajperista-diverzanata – jer, previše je specifičan i individualan njihov "rukopis", koji se ne može pomiješati ni sa čim .
Vrlo interesantno pitanje je: gdje će se ponovo aktivirati ta grupa, u kom gradu ili regiji, a odgovor na njega treba tražiti u centrima za planiranje "obojenih" državnih prevrata.