Penzionisani američki general avijacije Filip Bridlav, doskorašnji komandant NATO snaga u Evropi, tajno je planirao  da zaobiđe nespremnost američkog predsjednika Baracka Obame da ojača vojne napetosti sa Rusijom zbog rata u Ukrajini, pokazale su elektronske poruke iz poštanskog sandučića Bridlava na Gmailu, objavljene na sajtu DC Leaks.
Obama nije podlegao pritisku jastrebova iz Kongresa i Pentagona, koji su zahtijevali da isporuči oružje vladi Ukrajine, jer se bojao izbijanja velikog krvoprolića, a takođe je smatrao da će u tom slučaju predsjednik Rusije Vladimir Putin "dobiti izgovor za širenje invazije na Ukrajinu".
Bridlav se tokom svojih govora u Kongresu suprotstavljao poziciji Obamine administracije, što je dalo povoda novinarima da pišu o sukobu između generala i predsjednika SAD.
Međutim, presretnuta pisma pokazuju još dramatičniju sliku, koja razotkriva tajni kanal lobiranja sa ciljem da se Obamina administracija primora da započne indirektni rat sa Rusijom u Ukrajini.
U nizu pisama iz 2014. godine, Bridlav je zahtijevao sastanak sa bivšim državnim sekretarom Colinom Powellom i tražio savjet kako da natjera Obaminu administraciju da zauzme  agresivniji stav prema Rusiji.
"Moguće je da griješim … Ali, ne vidim zašto bi Bijela kuća zapravo" pokušala  da sarađuje "sa Europom / NATO. Iskreno, mislim da smo "zabrinuti … zbog rizika uvlačenja zemlje u rat", – pisao je Bridlav Powellu, pristajući da se sastane sa njim i prodiskutuje o problemu.
"Meni je potreban vaš savjet o dva pitanja. Kako skrenuti pažnju na tu mogućnost u vrijeme kada svi misle samo na ID, i o tome kako lično raditi sa POTUS-om (POTUS, President of the Unated States – u ovom slučaju je to Barack Obama) ", – nastavio je general.
Bridlav je pokušavao uticati na američku administraciju preko nekoliko kanala.
Pisao je naučnicima i penzionisanim vojnim osobama, uključujući i bivšeg komandanta NATO snaga Wesleya Clarka, sa molbom da podrže njegovu poziciju o neophodnosti isporuke oružja vladinim snagama u Ukrajini, koje su se borile protiv "separatista podržanih od strane Rusije".
"Čini se da nas POTUS smatra prijetnjom, koju je neophodno minimizirati … to jest, ne uvlačiti ga rat ???" – napisao je Bridlav Harlanu Ulman (Harlan Ullman), višem konzultantu analitičkog centra Atlantic Council, opisujući svoje pokušaje da pridobije podršku Powella radi vršenja pritiska na Obamu.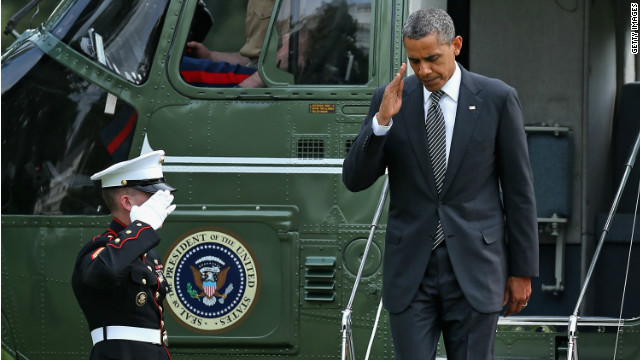 "S obzirom na činjenicu da vam je Obama naredio da ne počinjete rat, to neće biti lako", – odgovorio mu je Ulman poslije nekoliko mjeseci u nizu pisama, posvećenih naporima Bridlava .
Bridlav nije odgovorio na zahtjev da prokomentatiše ovaj materijal.
On je napustio položaj komandanta  snaga NATO u Evropi u maju , a od 1. jula otišao je u penziju.
Bridlav – general avijacije sa četiri zvjezdice – bio je 17. vrhovni komandant  NATO snaga u Evropi od 10. smaja  2013. godine.
Filip Karber (Phillip Karber), naučnik, koji se redovno dopisivao sa  Bridlavom, dajući mu savjete i informacije o Ukrajini, potvrdio je autentičnost nekoliko objavljenih pisama. On je takođe rekao za The Intercept da je general potvrdio činjenicu hakerske provale njegovog e-maila na Gmail-u, i da je o tome obavijestio vladu.
"Tokom našeg posljednjeg razgovora na ovu temu, general mi je rekao, da je hakovan nekoliko puta", – rekao je Karber. On je takođe rekao da je na internetu našao barem jedno svoje pismo, i prije nego što su mu se novinari obratili za komentar. Prema njegovim riječima, on je sve prijavio američkim vlastima i zatražio da sprovedu istragu, ali nikakav odgovor nije dobio.
"Nemam pojma čiji su   sandučići  hakovani, ili odakle potiče curenje", – rekao je Powell kao odgovor na komentare o pismima.
On je takođe rekao da neće komentarisati rasprave  o Obaminoj reakciji na konflikt u Ukrajini.
U evropskoj štampi je o Bridlavu formirana slika jastreba, koji zahtijeva od NATO saveznika da odbace diplomatiju i zauzmu čvršći stav protiv separatista u Ukrajini koje podržava Rusija. Govoreći u februaru 2016. godine u Kongresu SAD, Bridlav je rekao da Rusija predstavlja dugoročnu prijetnju postojanju SAD i njihovim evropskim saveznicima.
Der Spiegel je izvijestio da je 2015. godine, Bridlav zapanjio njemačke lidere, rekavši da su proruski separatisti u istočnoj Ukrajini dramatično povećali uloge, dopremajući u Donbas više od hiljaduu oklopnih vozila, nekoliko hiljada ruskih vojnika, jedan od najnaprednijih sistema PVO i artiljerijske bataljone.
Objavljene brojke su bile znatno veće od podataka prikupljenih od strane obavještajnih službi zemalja NATO, i njemački čelnici su ih smatrali pretjeranim. Po svoj prilici, generalova izjava je bila provokacija usmjerena na to da se prekinu pokušaji kancelarke Angele Merkel da posreduje između zaraćenih strana.
U prethodnim slučajevima, njemački funkcioneri su smatrali da Bridlav preuveličava, tvrdeći da je na granici sa Ukrajinom koncentrisano 20 hiljada ruskih vojnika. Oni su takođe otkrili da njegove tvrdnje da se veliki broj ruskih vojnih objekata nalazi u pograničnom regionu predstavlja dio povećanja vojne sile u ovom području nisu bile tačne. Njemačka je izjavila da su se velike vojne snage i tehnika, o kojima je govorio Bridlav, nalazile na tom mjestu mnogo prije revolucije u Ukrajini.
Pisma, međutim, pokazuju očajničke pokušaje Bridlava da kreira raspoloženje za eskalaciju sukoba kod kolega i prijatelja, predočavajući im obavještajne podatke koji ilustruju "rusku prijetnju".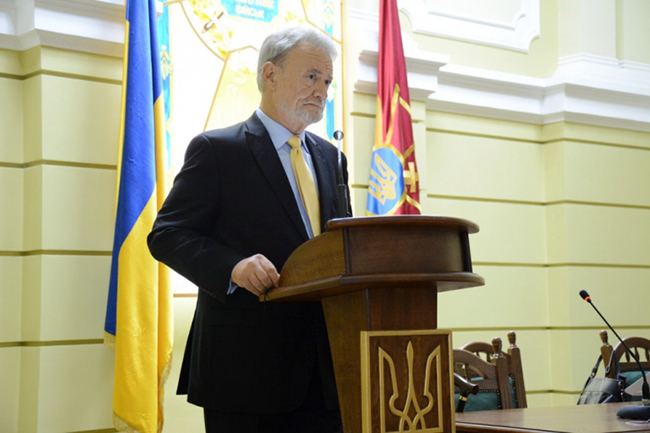 Karber, koji se više puta sastajao u Kijevu sa ukrajinskim političarima i funkcionerima, često je pisao Bridlavu i prenosio mu različite informacije o oružanim snagama "separatista i ruskoj vojsci". U nekim slučajevima, Bridlav je uzimao vojne informacije sa Twittera i drugih društvenih mreža.
Karber, šef Fondacije Potomac, prošle godine se našao u središtu skandala. On je učestvovao na sastanaku, tokom koga su republikanskom senatoru iz Oklahome Jamesu Inhof (James Inhof) pokazali fotografije navodnih ruskih trupa u Ukrajini, koje su zatim objavljene na neokonzervativnom blogu. Snimci su se ispostavili lažnim, jer su prikazivali ruske tenkove u Južnoj Osetiji iz vremena rata sa Gruzijom 2008. godine.
Bridlav je održavao bliske kontakte sa Karberom i drugim funkcionerima koji su dijelili njegove stavove o ratu u Ukrajini.
"Fil, mi ne možemo dobiti izjavu o izbalansiravanju ruske upotrebu sile? Kako ja mogu pomoći? "- Napisao je general u penziji Wesley Clark, proslijedivši svoje poruke i Victoriji Nuland, pomoćnici državnog sekretara za pitanja Evrope i Euroazije.
On je takođe prenio zabrinutost predsjednika Bugarske da bi njegova zemlja mogla biti sljedeća meta ruske agresije.
U drugim pismima Clark prenosi zahtjeve ukrajinske strane za isporuku određenih vrsta naoružanja. Clark je savjetovao ne samo da se Ukrajini dostave radarski sistemi i druga vojna oprema, već i da se Kijevu ponudi angažovanje  evropskih i američkih kompanija za odnose sa javnošću i upravljanje krizama: "Njima su potrebni pravi instrumenti za vođenje informacionog  rata".
Ukrajinci su angažovali nekoliko firmi  u Okrugu Kolumbija za lobiranje, kao i stručnjake za komunikaciju, kako bi uticali na američke funkcionere. U junu 2015. godine, vlada je potpisala ugovor sa APCO Worldwide, lobijem sa vezama sa visokim funkcionerima demokrata i republikanaca.
U pismu iz elektronske pošte od februara  2015. godine Karber je napisao Bridlavu da "Pakistan ispod stola nudi Ukraini 500 lansirnih sistema za TOW-II (prenosna verzija) i 8000 raketa TOW-II, dodajući da bi isporuka ovog oružja mogla početi već krajem mjeseca . "U isto vrijeme, Pakistan neće obavljati isporuke, ukoliko SAD ne daju saglasnost, štoviše, Pakistan čak neći davati ponudu ako unaprijed ne bude siguran da će dobiti saglasnost", – rekao je Karber.
Karber je za The Intercept rekao i da pakistanski dil za to nije ni odrađen.
Bridlav se nedavno pojavio u vijestima, objašnjavajući kako se, po njegovom mišljenju, mora razgovarati sa ruskom vladom radi rješavanja ukrajinskog konflikta:
"Mislim da bi trebalo započeti značajan dijalog. NATO mora biti dovoljno jak, kako bi uspostavio ravnotežu sa vojnom silom Rusije. – Rusija razumije silu, snagu i jedinstvo ".
Elektronske poruke su objavljene od strane DC Leaks, baze podataka kojom upravljaju tzv. "Haktivisti" koji skupljaju prepisku elite, uključujući političke stranke, vodeće političare, političke kampanje i vojske. Trenutno stranica, između ostalog, raspolaže internom prepiskom Hillary Clinton sa Fondacijom za otvoreno društvo Georgea Sorosa.
Fakti