Postoji jedna stara izreka koja kaže, "nikada miješati politiku sa sportom ', ali  Amerikanci  su uspjeli kombiovati ovo sa dobrim rezultatom  – uz malo pomoći od velikog Muhammada Alija.
Na svom vrhuncu, Ali je bio poznat kao ciničan i slatkorječiv, drzak mladi sportista koji dominira ne samo sa svojim šarmom i isklesanim dobrim izgledom, već i sa najvećim uticajem i vještinom u istoriji  boksa kao u mečevima Rumble in the Jungle (protiv Georgea Foremana) i Thrilla in  Manili (protiv Joe Fraziera).
"The Louisville Lip"  (Drznik iz Lusvila) koristi taktiku  kao što je 'Ali Shuffle " (Alijevo geganje)i" rope a dope' -Zarobljavanje u konopcima – pomalo neobičan stil za njegovu  težinu i kategoriju – tipično za njegov poseban kararkter, "letim kao leptir i ubadam  poput pčele ', postao je prvi i jedini tri puta linearni svjetski prvak u teškoj kategoriji.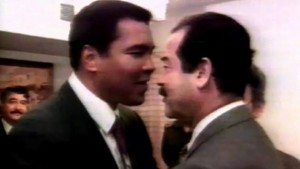 No, ono što je možda jedna od njegovih najvažnijih, ali i najmanje poznatih dostignuća je kako je putovao u Irak 1990. godine i  pregovarao i  puštanje 15 građana  Sjedinjenih Američkih Država, koji su bili   taoci Sadama Huseina nakon njegove invazije na Kuvajt.
1967,  prije 23 godine , za vrijeme rata u Vijetnamu, Ali  je ugrozio boksersku  karijeru kada je na vjerskoj osnovi, odbio  da služi u vojsci  SAD . Ocrnjen zbog njegovog odbijanja da se prijavi za odlazak u Vijetnam, uhapšen je i suspendocan, ali nikada nije zatvoren. Nije boksovao  gotovo četiri godine.
Mnogo godina kasnije, kada je SAD bio na rubu još jednog uzaludnog rata, ovaj put na Bliskom istoku, protiv  Sadama Huseina, iračkog  diktatora, koji je držao nevine zatvorenike kao "ljudski štit" kako bi odvratio vojne napade sa zapada. U malo vjerovatnom diplomatskom poslu ,  onaj koji je poslan da ih oslobodi , bio je Muhammad Ali.
Ali se u istoriju upisao  čineći još jedan hrabar potez. I ovaj put je sve rizikovao – njegov ugled, zdravlje i bezbjednost. SAD su se nadale da će  Alijeva popularnost i status na Bliskom istoku  spriječiti rat.
U to vrijeme, Ali jse  se već šestu   godinu borio sa Parkinsonovom boliješću. No, kad se pomiješano sa ljudima na ulicama Bagdada i djecom u školama, postavljena su pitanja u čemu je štos njegovog  publiciteta kako je njegovo ime  proslavljeno širom Bliskog istoka. Uostalom, on je bio poznat po svojim samo-promotivnim govorima  dok je bio na  svom vrhuncu.
Jedino što je mogao dobiti od ovog putovanja bilo je da oslobodi  15 talaca koje je Hussein zadržao Husein je ostavio Alija da čeka više od nedjelju dana   prije nego što se  on konačno uključio u  dijalog. No, prije nego što je mogao učiniti bilo što od toga, morao je odslušati diplomatski, čovjeka punog  samohvale.
Nakon toga, uspio je uvjeriti čovjeka koji je otvoreno zanemario UN i američku vladu da oslobodi taoce nakon četiri mjeseca u  zarobljeništvu obećavši Huesinu da će u SAD "iznijeti poštenu sliku o svom boravku u Iraku".
Poslije šest nedelja Ali je doveo taoce nazad kući svojim porodicama,a operacija Pustinjska oluja (bombatrdovanje IRaka) oštar je podsjetnik o onome što se moglo dogoditi da nije bilo Alija.
Mogućnosti da se danas ovako nešto dogodi u diplomatiji svedena je na nulu , rekao je Črls Pirce.Danas je nemoguće zamisliti da sportisti dovedu u opasnost ono što je Ali rizikovao i što je u surptonosti sa ratom koji su povele SAD.
Alijepo putovanje u Irak dokumentovano je sa 30 kratkih filmova, Alijeva misija završila se sa njegovim kratkim riječima koje je kako se moglo vidijeti prošaptao na kraju:"Oni mi ne duguju ništa. Oni mi ne duguju ništa"
Ali je sazrijevao sa godinama bez svake sumnje, ali kada je trebalo da pruži ruku pomoći, on je uvijek bio iskren i vjeran svom skromnom nadimku "NAJVEĆI".
https://youtube.com/watch?v=zgCGrjtlCCE" frameborder="0″ allowfullscreen><
Balkanbreakingnews